When is an Authorisation Key needed? 
The DNAS server can be run in two modes: 
Public - If you want your station to appear in the SHOUTcast Directory listings 
Private - If you do not want your station to be listed e.g. an internal company station 
If you want the station to be public then you will need an authorisation key, otherwise it is not needed for private stations. 
FOLLOW THIS LINK AND COMPLETE REGISTRATION TO SHOUTcast DIRECTORY IN 5 STEPS: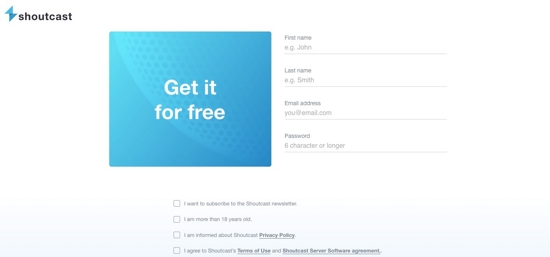 OR IF YOU HAVE AN ACCOUNT AT SHOUTCAST.COM FOLLOW THIS LINK TO LOG IN: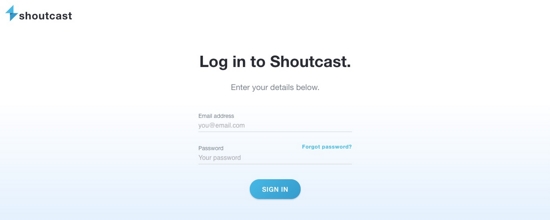 INTO SHOUTcast RADIOMANAGER CLICK SETTINGS->ADVANCED AND FIND YOUR AUTHHASH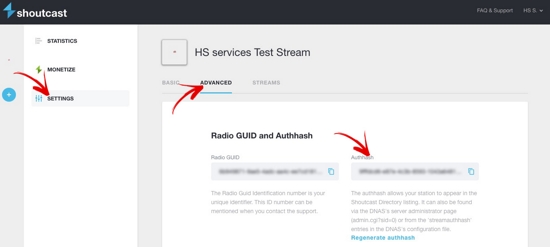 Start your SHOUTcast Server and have a source (such as the live streaming software or AutoDJ) correctly connected so the stream is recognised by the DNAS. This can be determined from looking at the DNAS Summary page (to access this page, login to Centova Cast control panel and at "Server" click "Admin" or for FREE SHOUTcast server login to SHOUTcast Control panel and click "SHOUTcast v2 Admin Page") which will show any active stream(s) - if there are none then you will need to re-check the source. 
- Click "Stream Login" and login as Admin to your SHOUTcast Server Page...

- Click "Authhash", copy your Authhash from SHOUTcast Radiomanager and paste it as you can see at the image below and click "Save"...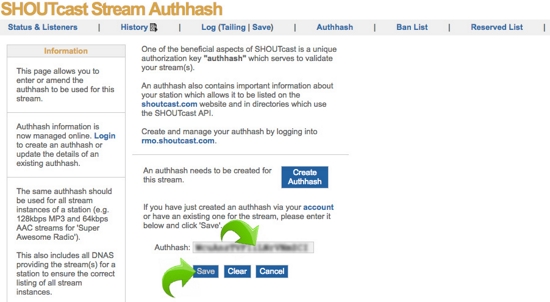 - Your stream runs now in public mode and will appear in the SHOUTcast Directory listings.